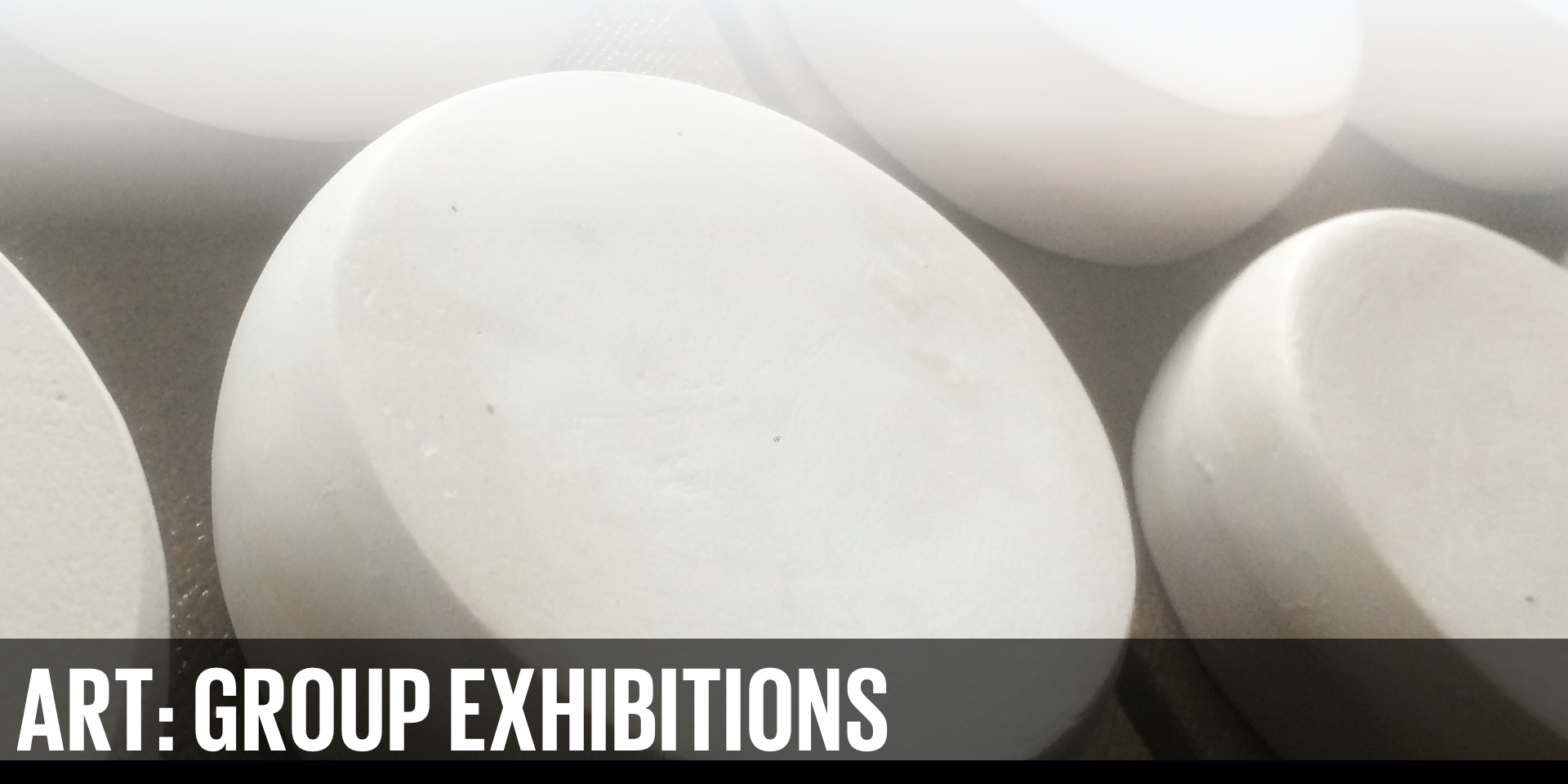 Caption: An image highlighting prominent details of paintings, Androgyny 2 and Androgyny 3 made in 2016. These were the first paintings to which I publicly attached attributes of queer abstraction; and because of this, I hold an infinite fondness for them. Click the image above to view these works installed at the group exhibition Chewing Tar, Industrial Materials in the Service of Art at Lichtundfire Gallery, curated by Linda Griggs. For more information on this exhibition, kindly reference the notation below.


A note of introduction: This page presents a highly abbreviated survey of New York City-based group exhibiton projects, to provide a helpful representation of how my work is able to dialogue with the work of others, including queer and non-queer work alike.
Questions? Kindly e-mail me at cs@christopherstout.com.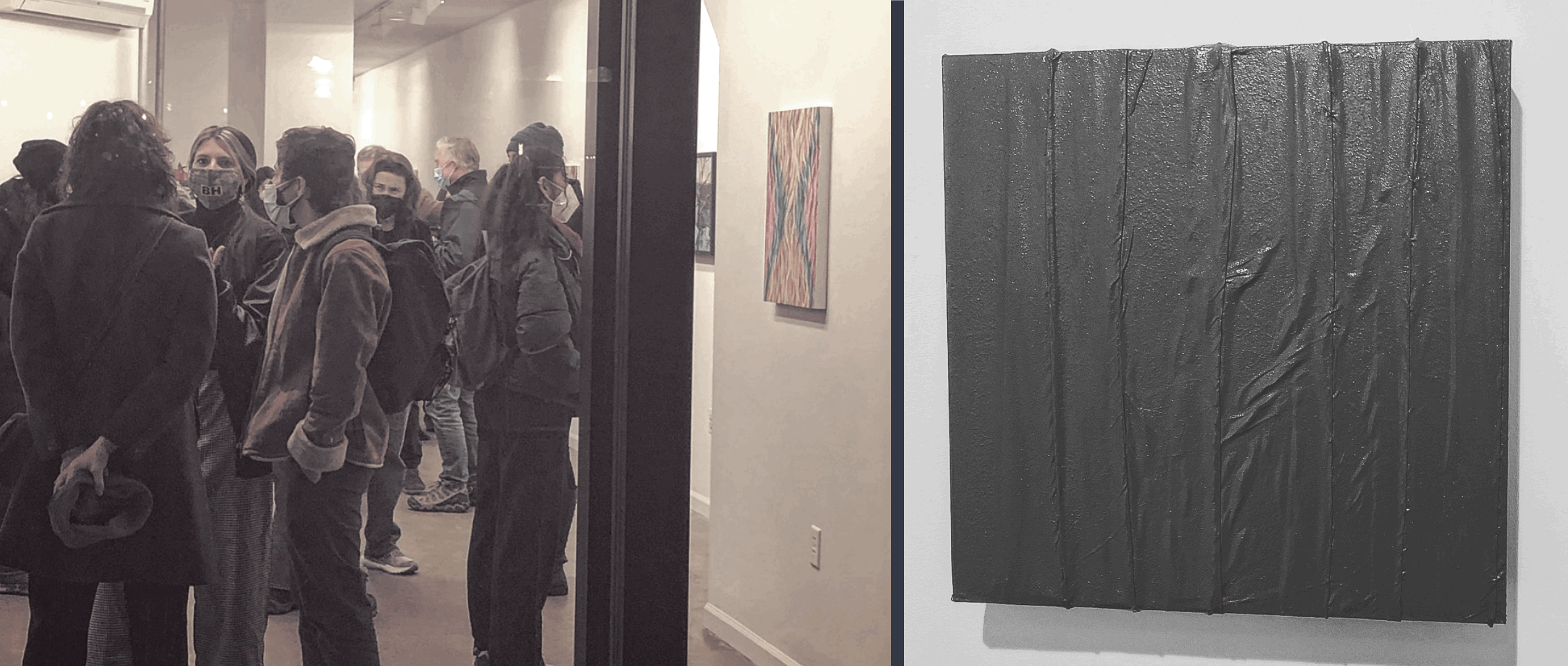 (Click the image above to reference the New York Artists Equity Association's exhibition page.)
NYAE ANNUAL MEMBERS INVITATIONAL
Equity Gallery, 245 Broome Street (Ground Floor Gallery,) New York, New York 10002
Exhibition Dates: January 12–February 19, 2022
Equity Gallery is pleased to ring in 2022 with the NYAE Annual Members Invitational, the latest iteration of our annual juried group exhibition, exclusively featuring artwork by Rose, Emerald, and Lifetime members of New York Artists Equity. The exhibition is Equity Gallery's first new show of the new year and will run from January 12th through February 19th.

The eighteen artists featured in this year's show are Amy Bassin, Carol Diamond, Patricia Fabricant, Linda King Ferguson, Susan Hensel, Steven Anthony Johnson II, Toshiko Kitano Groner, Lisa Lebofsky, Carla Lobmier, Christina Massey, Kellyann Monaghan, Susan Reedy, Deborah Sherman, Susan Stillman, Christopher Stout, Sue Strande, Ellen Weider, and Siyan Wong.

All artworks in this exhibition were selected by a panel of accomplished artists and arts professionals, including director/chief curator of the West Harlem Art Fund Savona Bailey-McClain, artist and publisher of Whitehot Magazine of Contemporary Art Noah Becker, and visual artist, educator, and independent curator Melissa Staiger.

The Annual Members Invitational celebrates both New York Artists Equity Association's legacy and history by highlighting the artworks of its current members. Artists Equity was founded in 1947 by over 160 prominent American artists, including art world luminaries such as Jacob Lawrence, Louise Nevelson, and Edward Hopper, and continues to be an influential and guiding organization for artists today. The organization is composed of a diverse community of artists, patrons and allied professionals who view themselves as cultural stewards, charged with advancing the professional aspirations of emerging practitioners.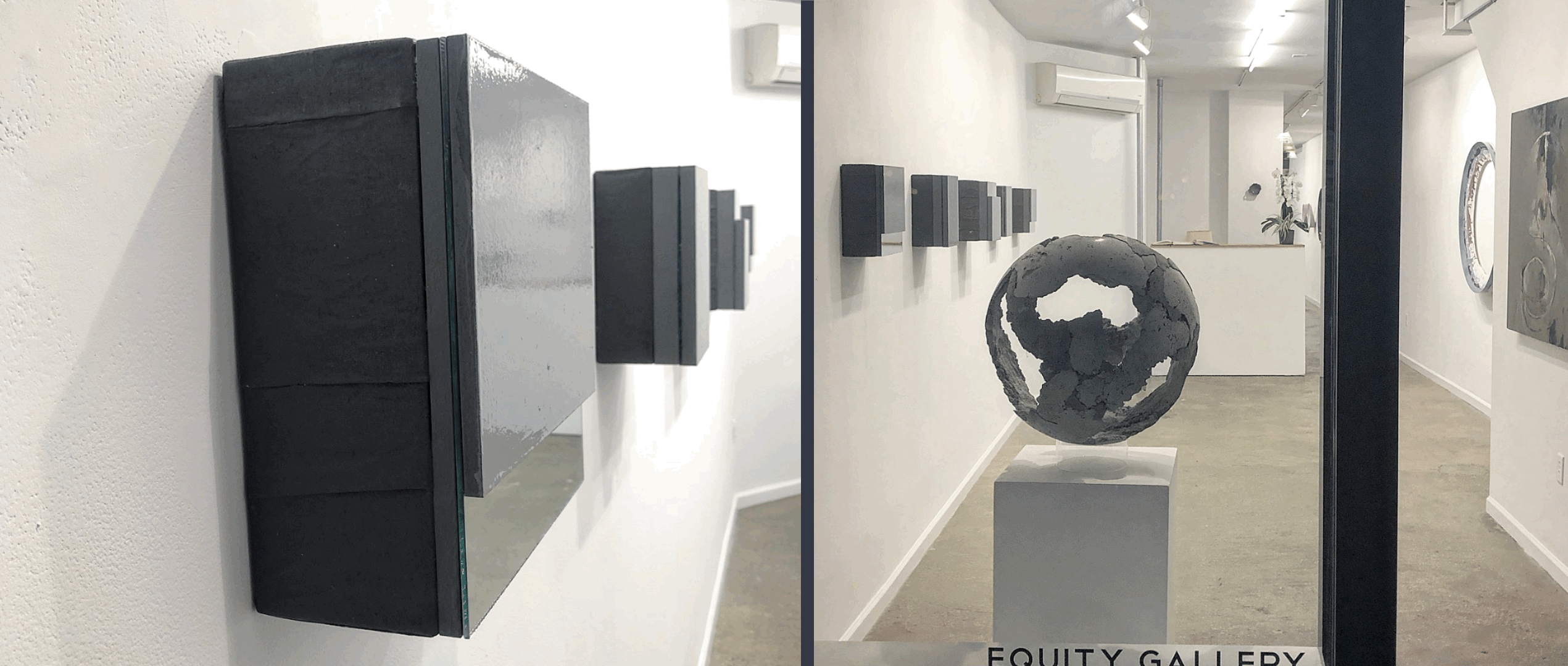 (Click the image above to reference the New York Artists Equity Association's exhibition page.)
III (THREE)
Equity Gallery, 245 Broome Street (Ground Floor Gallery,) New York, New York 10002
Exhibition Dates: July 06–30, 2022
Equity Gallery is pleased to announce "III", a 3-person exhibition which includes new works by Allen Hansen, Christopher Stout, and Miguel Otero Fuentes — abstract, minimalist artists who find common ground with the use of sensory geographies, as well as architectural and organic symmetries.

The title "III" contains an acknowledgement of three distinct voices which hold cooperative elements within their work. "III" is as abstract as the featured art is, holding meaning beyond the literal, attributed definitions and asking the audience to experience the art's purity of form.

By reducing complexities to their bare elements and fundamentals, the works by these artists evoke time, place, and memory. There is a preoccupation with the physical use of mediums, which is made prominent on the artworks' surfaces. Together, these artists initiate a dialogue which celebrates both their effortless correspondence and interdependence.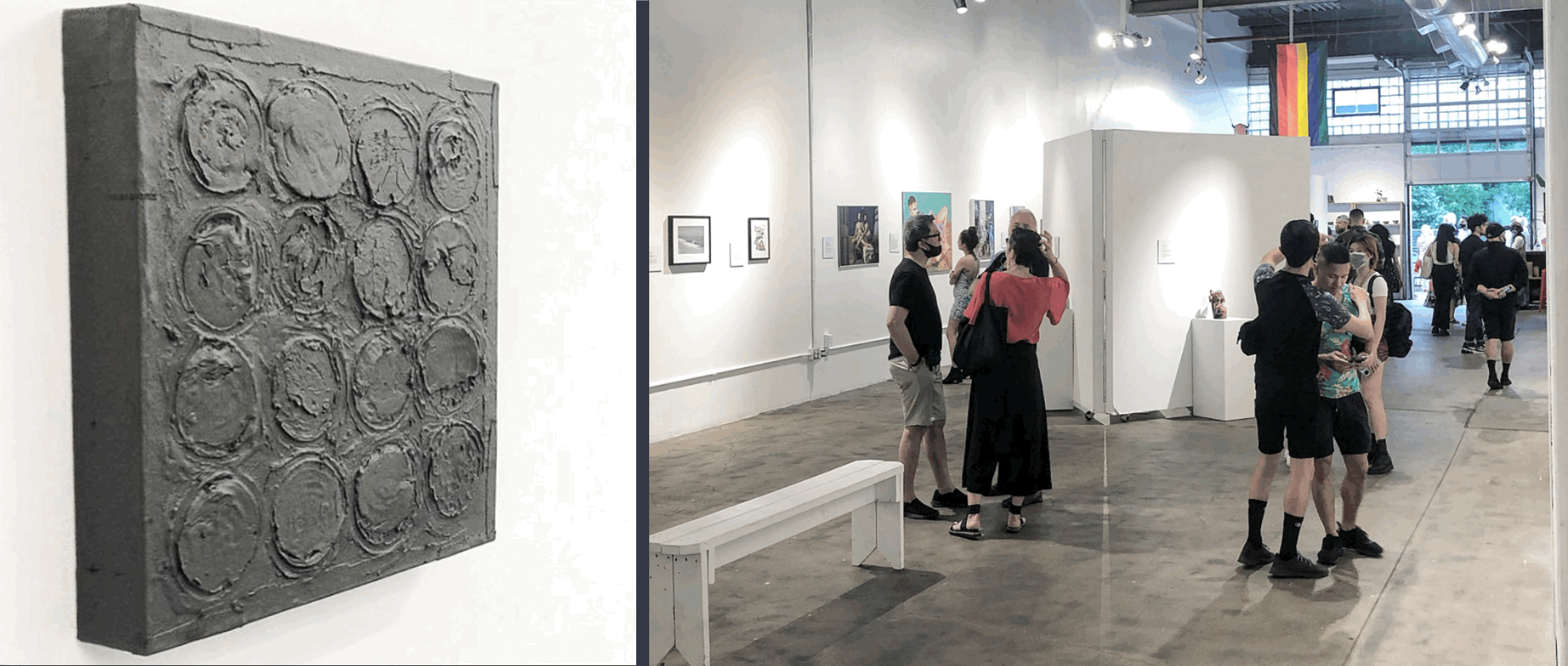 TOGETHER – PRIDE
Plaxall Gallery, 5-46 46th Avenue, Long Island City, New York 11101
Exhibition Dates: June 03–July 25, 2021 (Extended)
Exhibition curators: Orestes Gonzalez, Director of Photographic Programming at Culture Lab and Efrem Zelony-Mindell
Curatorial Statement: In creating this exhibit, the word Pride was used as a base for inspiration and interpretation. It was designed to be taken literally, conceptually, or theoretically. We chose strong, personal work that addresses the issues being discussed today, as well as projects that frame the historical struggles of the LGBTQ+ community and its increasing acceptance into the ever-changing mainstream.
Participating Artists: Alex Pigeon, Bradley Hoseley, Carmelo Amenta, Cassi Alexandra, Christopher Stout, Cristina Velasquez, Daniel Alvarado, Dan Halm, David De Lira, David Wes White, Edward Gia, Elianel Clinton, Erika Kapin, Frances Bukovsky, Friends of David and Tom: (Anita Vitale, Cynthia Carr, Gracie Mansion, Jean Foos, Judy Glantzman, Virginia Hourigan), Gilberto Ruiz, Ismario Rodríguez, Ivana Larrosa, Jacob Grumulaitis, Jacqueline Silberbush, Jade Palmiotti, JaLeel Porcha, James Falciano, Jamie Ho, Jenna Petrone, Jesse Egner, Joe Klaus, Joel Handorff, Joey Regan, John Hanning, Jonathan Virginia Green, Jorge Mónaco, José Rafael Perozo, Joseph Radoccia, Joshua Tarplin, Keavy Handley-Byrne, Kelsey Sucena, Luisa Madrid, Mariette Pathy Allen, Michael Svizzero, Michela Griffo, Natalia L. Rudychev, Nicholas Loffredo, Nick Simko, Orestes Gonzalez, Pankaj Dahalia, Patricia Dahlman, Pierce Sapper, Rachael Warner, Raul De Lara, Ryan Aasen, Vincent CY Chen, Yorgos Efthymiadis, and Zachary Francois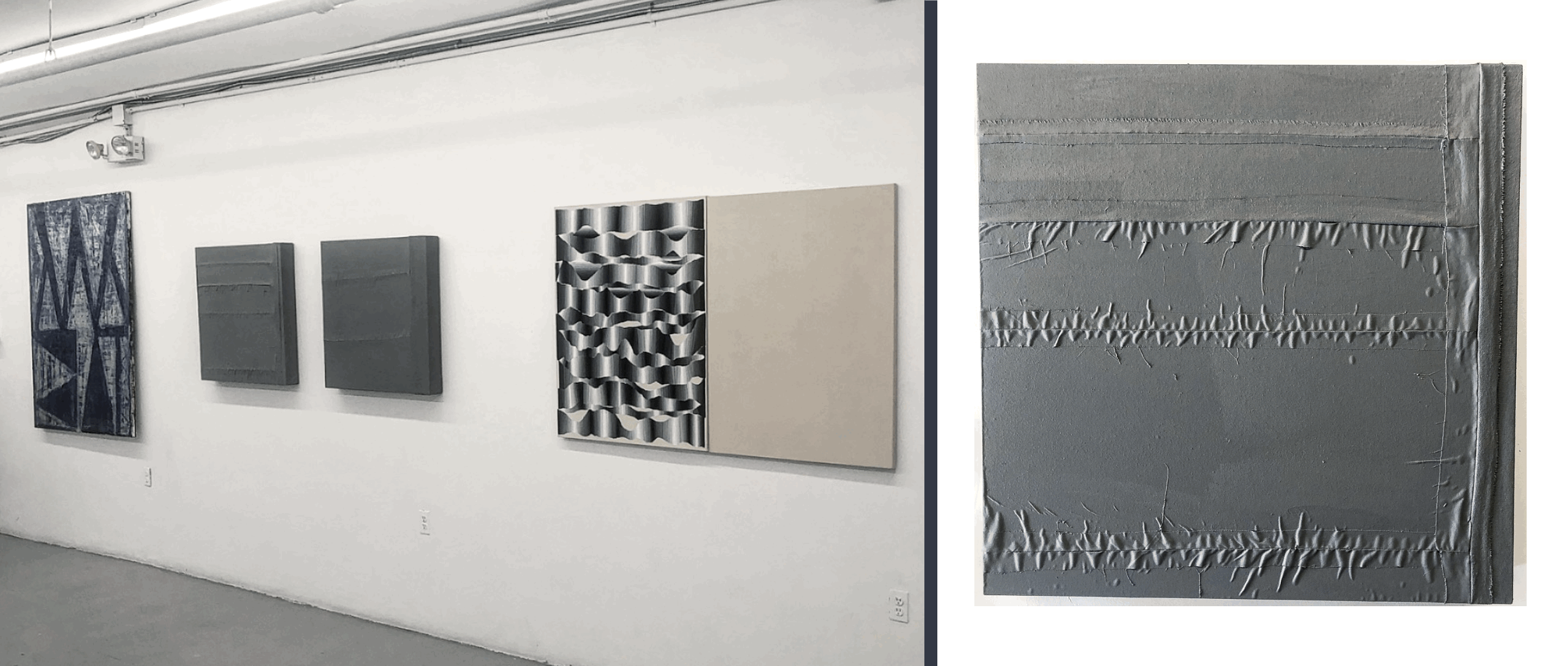 (Click the image above to reference SFA Project's exhibition page.)
THE ELEMENTS OF PATTERN AND THE SPACES IN BETWEEN
SFA Projects, 131 Chrystie Street, New York, New York 10002
Exhibition Dates: April 14–June 27, 2021 (Extended)
SFA Projects presents The Elements of Pattern and the Spaces in Between, a group exhibition of works by Danielle Dimston, Patricia Fabricant, Gordon Fearey, Russell Floersch, GJ Kimsunken, Sirikul Pattachote, Benjamin Pritchard, Christopher Stout, and Jason Yung.

The exhibition considers the elements of patterns by presenting contemporary works featuring line, form, texture, color, and space.

By isolating each of the elements that traditionally combine to produce patterns the presentation may, as a whole, be viewed as a pattern in itself, where visitors may step inside the pattern while contemplating the marks and forms that comprise it.

The exhibition also looks at patterns in a behavioral sense, and highlights the visual language patterns employed by each artist that help to define their studio practice and identity. Each of the participating artists have a consistent thread — a studio pattern — that ties one painting to the next and to all of the paintings before them, culminating in what can firmly be described as a body of work.
This deconstruction and reconstruction of pattern provides an exciting opportunity for meditative contemplation of simplicity within complexity.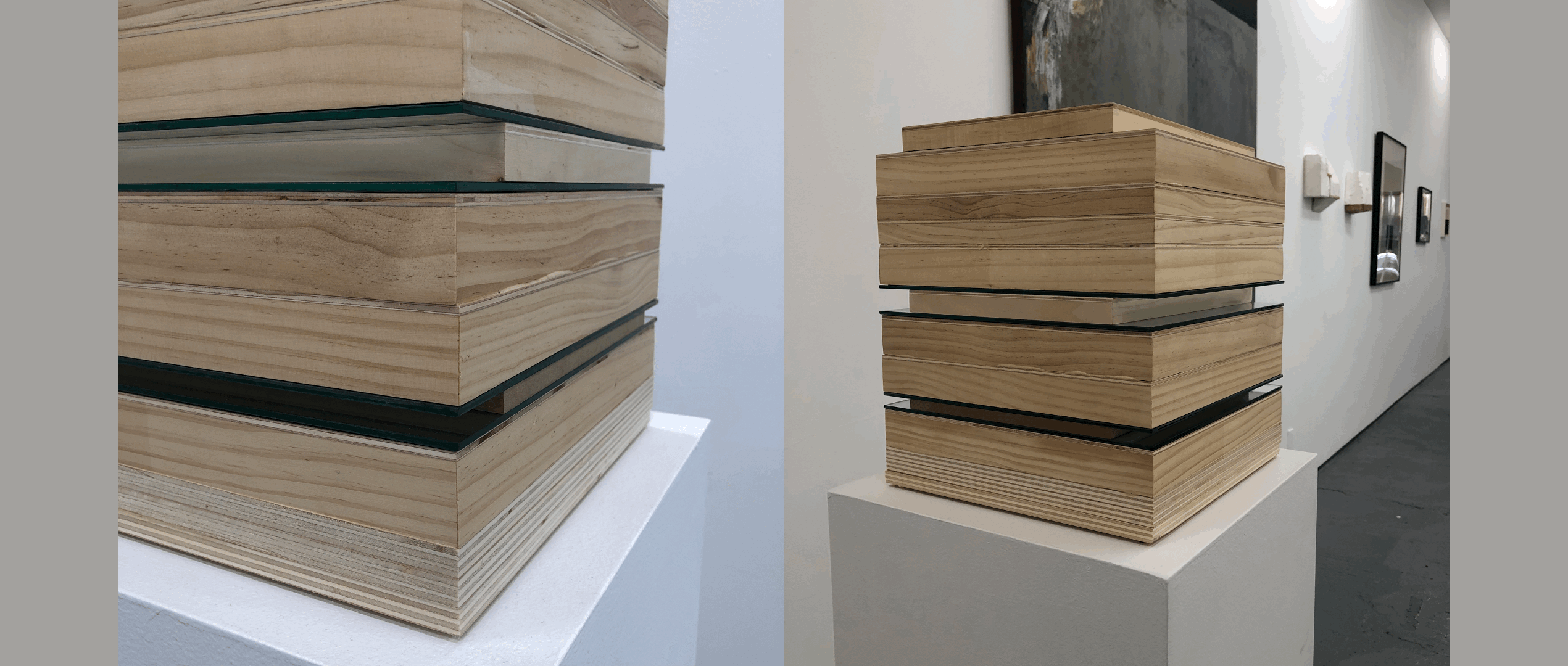 INFINITE RHIZOME
Lichtundfire Gallery, 175 Rivington Street (Ground Floor Gallery), New York, New York 10002
Exhibition Dates: Exhibition Dates: April 10—May 05, 2019

Lichtundfire is pleased to present INFINITE RHIZOME, a focused exhibition by six artists working in various media: painting, works on paper, and sculpture, all of whom have been part of multiple exhibitions at Lichtundfire throughout the past 3+ years. In many ways, their work, points to a lateral interconnectiveness. Their visual languages, however independent, demonstrate fluid organic artistic interrelations akin to the growth pattern of a lateral biological stem.

Featuring work by: Augustus Goertz, Allen Hansen, Alan Steele, Christopher Stout, Jeffrey Wallace, and Gerald Wolfe.

The curation of this exhibition emphasizes the experience of non-linear dynamics between six artists whose purposeful practice and aesthetic can be linked to underlying theoretical postmodern ideas of non-hierarchical interdependence and universal randomness, and their systems. While the exhibition draws attention to the artists' individual manifestations of artistic expression, it simultaneously makes the connection to a far more universal concept of an endless visual interdependence between all of their "Images of Thought" – Deleuze/ Guattari.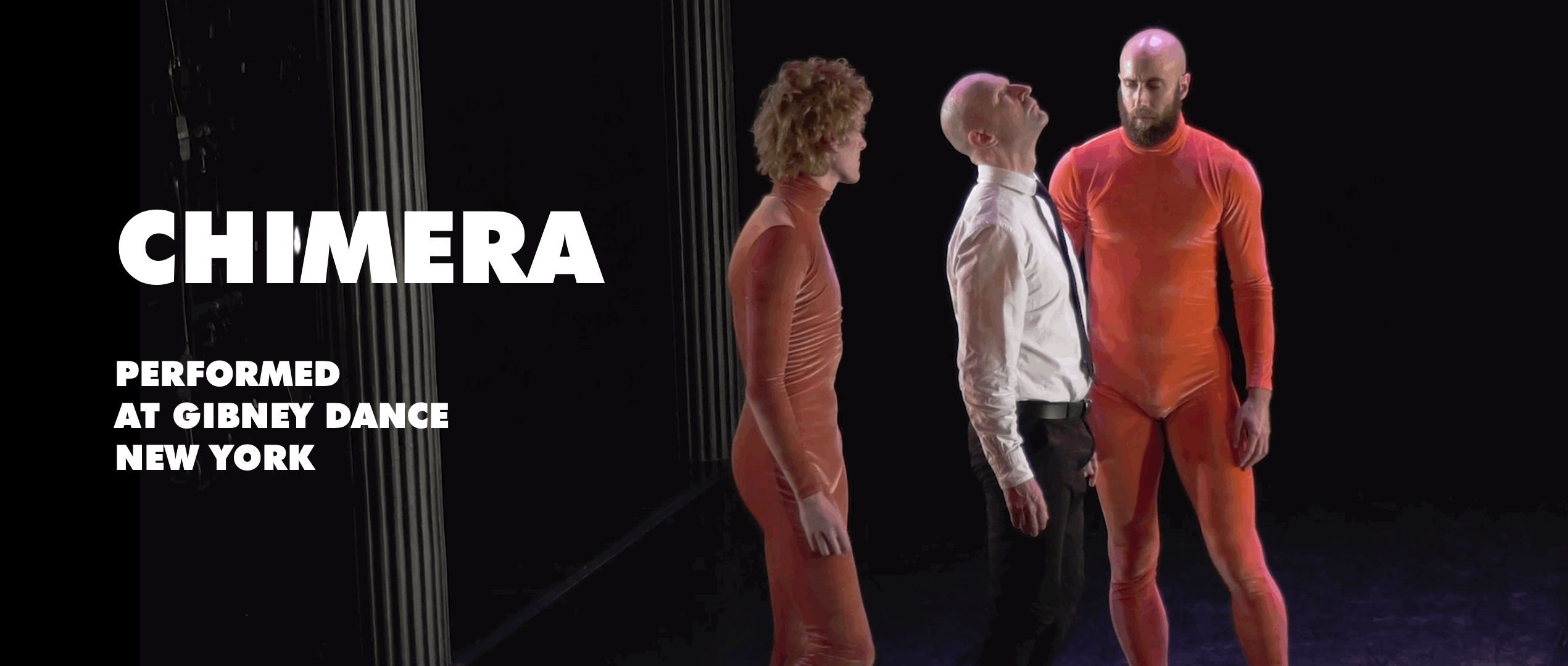 (Click the image above to reference the documentary film of the dance/movement piece CHIMERA, performed at Gibney Dance in December 2018.)

CHIMERA
Gibney Dance, 890 Broadway, 5th Floor, New York, New York 10003
Exhibition Dates: December 13–15, 2018

Choreographer/Director: Burr Johnson
Dancers/Performers: Brittany Bailey, Dominica Greene, Catherine Kirk, Owen Prum, and Christopher Stout
Costume Design: Burr Johnson
Costume Construction: Quinn Czejkowki
Soundscore: Burr Johnson and Lighting Design Asami Morita
Documentary Film Editing: Jack Blackmon

Part of the presentation, Doubleplus: Fana Fraser + Burr Johnson
Curated by Kimberly Bartosik

Chimera emerges as a study on the textures of movement, the interplay between expressionism and formalism, and the subversion of expectations. The dancers seek new worlds by interrogating and reimagining various entrenched dichotomies—natural/artificial, female/male, human/animal, static/moving, and passive/active by way of intense physical rigor, pedestrian task-based actions, and dynamic partnering. As a painter uses chiaroscuro to transform two-dimensional surfaces, the juxtaposition of events and situations creates drama in this work.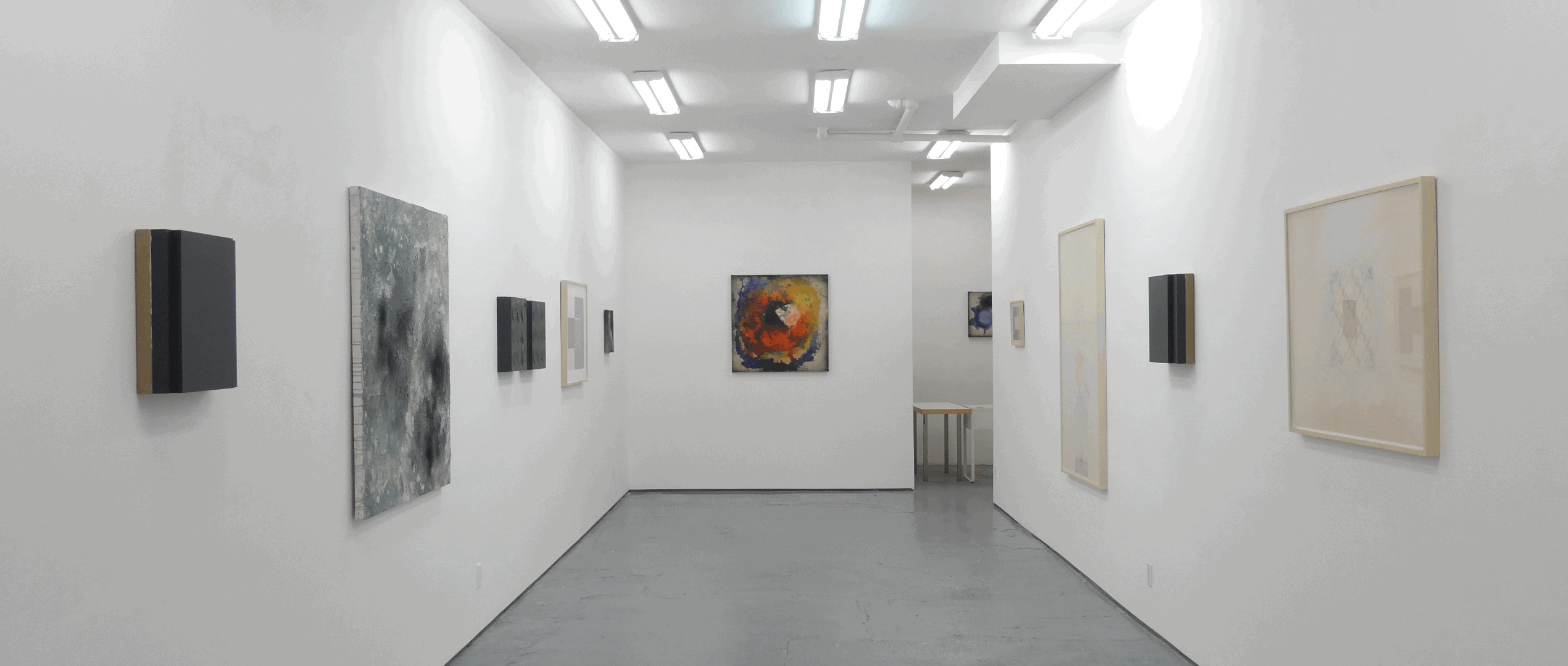 MINIMAL IMPACT
Lichtundfire Gallery, 175 Rivington Street (Ground Floor Gallery), New York, New York 10002
Exhibition Dates: Exhibition Dates: October 03—November 04, 2018
Lichtundfire is pleased to present Minimal Impact, a carefully constructed and focused exhibition of mixed media paintings, drawings and works on paper, through the lens of three artists, Augustus Goertz, Alan Steele, and Christopher Stout, all of whom have shown their work in the past at Lichtundfire. Taking the common meaning of the term to another level of connotation- the Minimal Impact here lies in the sparsity of the application, delicate expression or subtle reference, however resulting in a powerful conceptual language.

In many ways, closely linked, however differing in their practice and in the execution of their mediums, the individual artist's work strongly stands alone yet 'inter pares'- within equals- creating a visual dialogue between textures, lines, and hues.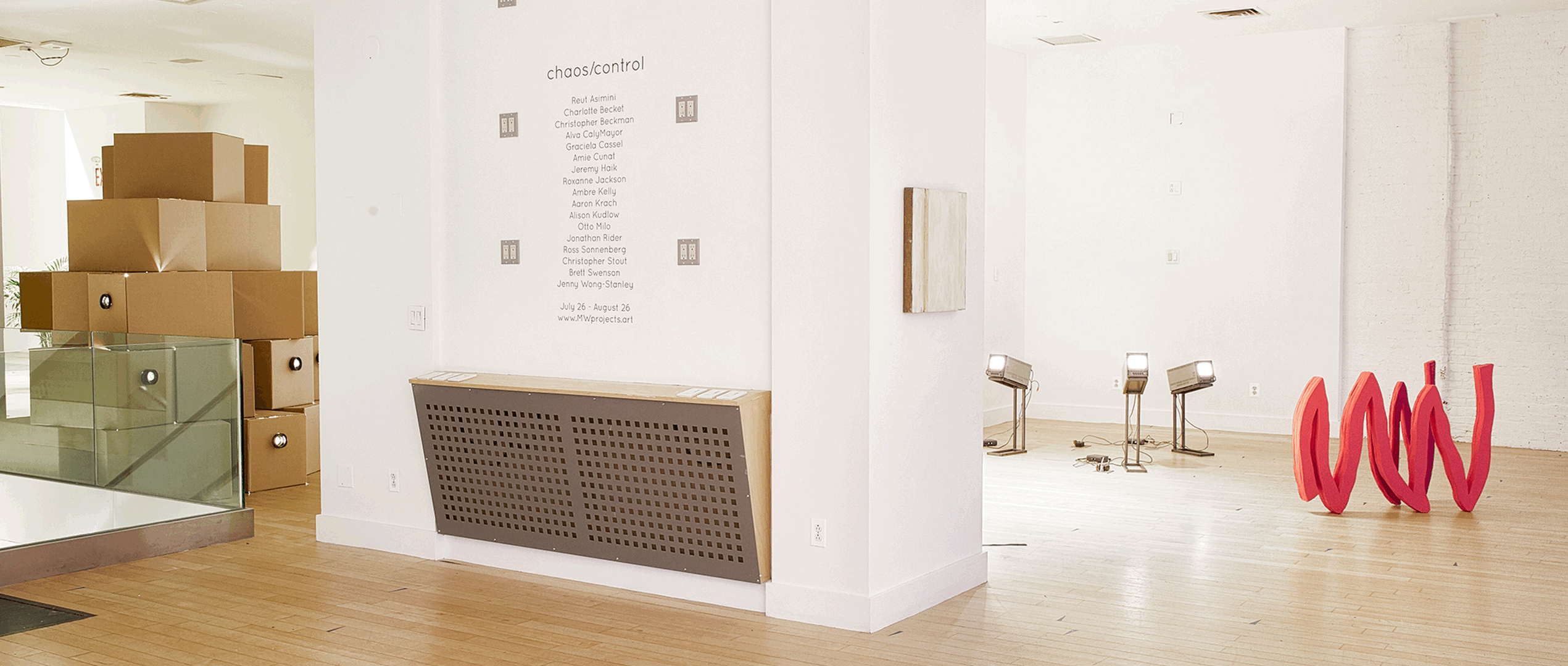 (Click the image above to reference curator Melinda Wang's exhibition page.)
CHAOS//CONTROL
Doing Living Projects
Exhibition Dates: July 26–August 26, 2017
MW Projects is pleased to present Chaos/Control, a group exhibition featuring the works of Reut Asimini, Charlotte Becket, Christopher Beckman, Alva CalyMayor, Graciela Cassel, Amie Cunat, Jeremy Haik, Roxanne Jackson, Ambre Kelly, Aaron Krach, Alison Kudlow, Otto Milo, Jonathan Rider, Ross Sonnenberg, Christopher Stout, Brett Swenson, and Jenny Wong-Stanley.
Through painting, sculpture, photography, performance and video, the 17 artists in the exhibition explore the duality of chaos and control, and how we occupy the space in-between. As we navigate our daily lives, isn't it the unplanned moments that often bring the greatest joys? And do we actually gain control by letting go? Each work examines these questions in the creative process – revealing how artists alternate between chaos and control, and when an artwork takes on a life of its own.
MW Projects is a cultural production and art advisory firm dedicated to bringing contemporary art to historic sites, non-traditional venues and liminal spaces. We work with emerging and established artists to transform environments and encourage dialogue about contemporary art and culture. For more information, please visit www.MWprojects.art.
Exhibition Photography courtesy of MW Projects; photo by NYArt Photography.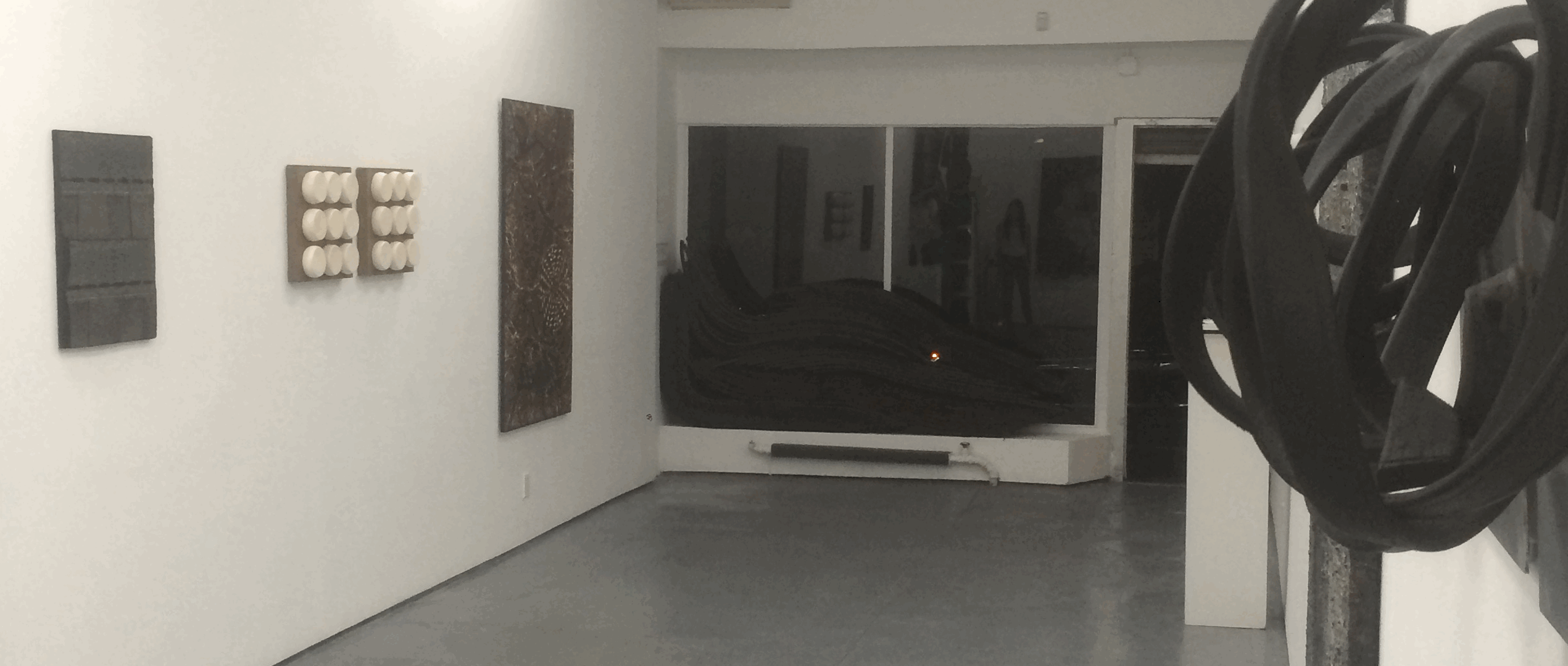 CHEWING TAR
Lichtundfire Gallery, 175 Rivington Street (Ground Floor Gallery), New York, New York 10002
Exhibition Dates: October 20–November 27, 2016
Curated by Linda Griggs
Lichtundfire is happy to announce Chewing Tar, a tightly curated group show by Linda Griggs, which sheds a light on artists working with non-traditional materials, usually used in a different non-art context. The use and inclusion of nontraditional, commercial materials to make art leaves the option for an infinite expansion of the creative field and encourages the redefinition of what has been perceived as distinguishably artistic. The exhibition includes works by Jarrod Beck, Graham Caldwell, Ula Einstein, Augustus Goertz, Allen Hansen, Rick Klauber, Bernard Klevickas, Alex Markwith, Peter Patchen, Jonathan Peyser, Judy Richardson, Patricia Smith, Greg Stone and Christopher Stout.
From the catalog essay by Linda Griggs: "Chewing Tar brings together fourteen artists working with materials typically manufactured for non-art purposes. Included are roofing tar, fibrated asphalt, tire rubber, wood shims, aluminum oxide, Tyvek®, 3D printing, and fused plaster.
Featuring work by: Jarrod Beck, Graham Caldwell, Ula Einstein, Augustus Goertz, Allen Hansen, Rick Klauber, Bernard Klevickas, Alex Markwith, Peter Patchen, Jonathan Peyser, Judy Richardson, Patricia Smith, Greg Stone, and Christopher Stout.
These artists come to their materials differently. Some find that the material inspires the art. There is an irresistible attraction in shiny tar, shimmering aluminum, and thick, black rubber. For others, when a preconceived idea can't be executed using traditional art supplies, non-traditional materials are sought out. In either case the industrial materials intended purpose is discarded in favor of its visual potential.
This show differs from up-cycled shows in that the artists did not choose their medium based on its ubiquity as a discarded material … and offers a view of these non-traditional art materials focusing on the rich, the lush, and the refulgent, often showcasing the tactile or voluptuous qualities of the medium. The artists choices, humble or high tech, present an element of surprise as we become aware of the materials original purpose and its newly elevated and highlighted significance in these handsome, visually textural pieces.
Chewing Tar Lichtundfire is the second installment in the ongoing Chewing Tar series, which began with an exhibition at the UMASS Amherst Fine Arts Center, Hampden Gallery, March 2016. The title Chewing Tar refers to the childhood pastime of chewing on melting, sticky tar found on the side of the road in the summertime.

This exhibition was also shown at the UMassAmherst Fine Arts Center March 01–27, 2016.
https://fac.umass.edu/Online/default.asp?BOparam::WScontent::loadArticle::permalink=ChewingTar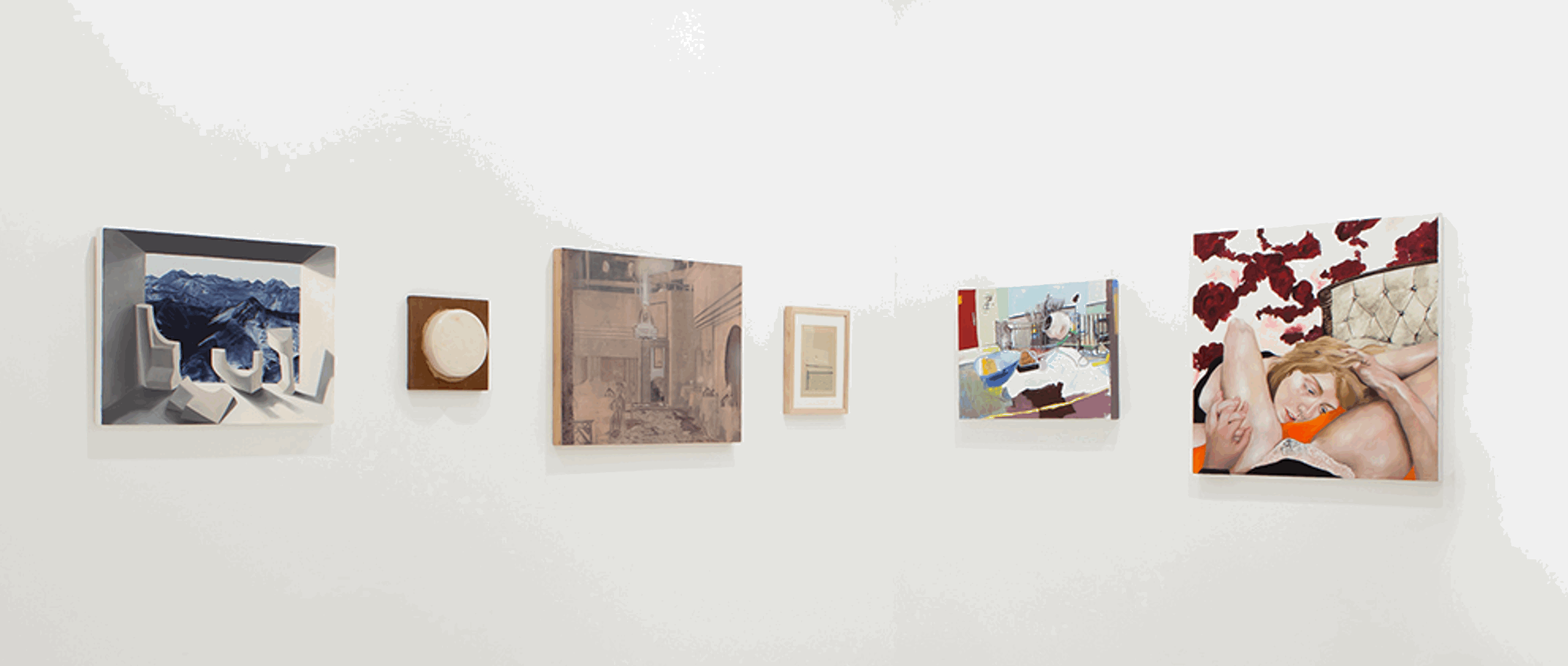 (Click the image above to reference Brooklyn Fire Proof's exhibition page.)
HRÖNIR: UNLOST THINGS
Brooklyn Fire Proof, 119 Ingraham Street, Brooklyn, New York 11237
Exhibition Dates: November 14–21, 2014
Curated by Hazel Lee Santino

Hrönir: Un-Lost Things takes its name from Jorge Luis Borges' short story Tlön, Uqbar, Orbis Tertius. "Hrönir" are objects that, once lost, have been found–but they are duplicated and somehow affected by having been lost, or by having been found. The same missing pencil may be found by two separate individuals, with each finding a version of the pencil they expect to find. Hrönir are distorted by expectation and memory, but as personalized facsimiles of the original are valid and very real objects.

For the first group show hosted by BFP Creative, 80 artists were asked to "recreate something lost," effectively using art to manufacture something like hrönir in the real world. The resulting work ranges from heartfelt and tragic to humorous, irreverent takes on things lost.

Featuring work by: Liz Atzberger, Nancy Baker, Franca Barone, James Bascara, Melinda Beck, Gregory Benton, Nathan Bond, Paul Brainard, Adam Brasil, Iain Burke, Richard Ray Chan, Beata Chrzanowska, Ehren Clodfelter, Jaynie Crimmins, William Crosby, Leigh Cunningham, Daniel Davidson, Travis DeMello, Burr Dodd, Kevin Doyle, Maureen Drennan, Jackson Falor-Ward, Lori Field, Ed Flanagan, Ryan Michael Ford, MaDora Frey, Linnéa Gad, Paul Gagner, Langdon Graves, Hunter Heckroth, Jen Hitchings, Chloe Isip, Jordin Isip, Simone Isip, Roberto Jamora, Nils Karsten, Tricia Keightley, Hannah Lee, Kristen Leonard, Rachel Levit, Melissa Ling, Kristen Liu-Wong, Monique Mantell, Eliot Markell, Maya Rose Meissner, Merz, Kit Mills, Kymia Nawabi, Jon Newman, Nora Normile, Brian O'Neill, Galia Offri, Julia Oldham + Chad Stayrook, HyunJin Alex Park, Helena Parriott, Maritsa Patrinos, Don Pablo Pedro, Chelsey Pettyjohn, Rachel Pontious, Monica Ramos, Julee Rieu, Scott Robinson, Marina Ross, Jonny Ruzzo, Hazel Lee Santino, Hiba Schahbaz, Rachel Schmidhofer, Kelsey Shwetz, Paula Searing, Andrew Smenos, Josie Stevenson, Christopher Stout, Ulrike Theusner, Jeanne Tremel, Michela Vinton, Oliver Warden, Frank Webster, Eric White, and James Yang.